For May's API Heritage Month, we have proudly partnered with JetBlue to showcase stories of our community's resilience.
---
AAP(I belong)® is a place to share stories & words of encouragement from those who have encountered anti-Asian hatred.
AAP(I belong)® aims to shed greater awareness to AAPI discrimination and cultural challenges through education by providing a safe platform for the AAPI community to share their anonymous stories of encounters with Anti-Asian hate. Our goal is to showcase the collected stories in popup exhibitions around the country with the intention of sparking self-reflection, community conversations, and general AAPI education to the public. AAP(I belong)® has also received mentions on Good Morning America, Nightline episode, Elle.com, CNN, Time Magazine, Nasdaq and the White House United We Stand summit.
Please continue to share with us! Submissions are always welcome.
---
ABOUT US
A little about Vilma and I
Hi. My name is Elizabeth Kari and I am the daughter of Vilma Kari, the 65 year old woman who was attacked on her way to church near Times Square, simply for being Asian. First and foremost, I want to thank everyone that has expressed their support. Through the gofundme page, we have received an overwhelming amount of private messages of prayers and love—which has shown us first-hand what the human spirit is capable of. Supporters sharing words of encouragement, their fears and even their own personal hate encounters —all of these stories have made us feel closer to the community and the world.
THE PROJECT
This feeling – of belonging – and connection – inspired us to share with one another. Kind words from strangers have filled the void where anger and sadness would normally prevail. This inspired me to help create a platform where we can all share our own individual recollections – to show solidarity, strength, and provide light to show – that you and I belong here in America.I Invite the AAPI Community to share any personal stories, sentiments or words of encouragement. Kindly note that ALL SUBMISSIONS must be submitted anonymously and without confidential information. Stories will be published on the website, Instagram account, and through special pop up projects and collaborations.Through this 'story-telling', AAPIBelong's mission is to share this overwhelming feeling of comfort and love with the entire AAPI community and our allies. This digital and physical space will be a tool to empower those to speak out and step up. Bringing light, truth, and shedding the stigma as victimized targets of hate will be our goals onwards. We hope to continue in encouraging each other through these personal experiences and to let others know that you are not alone. More than ever, we need to stand together. We need to use our voice and speak up. We need to continue to report any and every injustice directed towards our community. We should not be told that we are less and made to feel unworthy to be here. My mom Vilma belongs. I belong. We all belong.
---
KEEP UPDATED
Follow this journey with us
Special thanks to the below organizations for making this idea possible.
Photograph by Jason Leung©2021 AAP(I BELONG)® All Rights Reserved | Terms and Conditions | Privacy Policy
---
Thank you for wanting to share your story!
We are excited to hear and to be able to share your story with the rest of the community, but just before we lead you to the submission box, if you can please review the below to make sure you and I are on the same page.
Do not include any confidential or personably identifiable information. Posting of submissions are subject to AAP(I Belong) discretion.
These Terms Are a Contract Between You and Us
The following terms ("Agreement") are a contract between you and Elizabeth Kari DBA AAP(I BELONG) and/or its affiliates and subsidiaries (collectively, "AAP(I BELONG)," "we" or "us").
You represent to AAP(I BELONG) that you have read, understood, and expressly agree to be bound by this Agreement, and the terms, conditions, and notices contained or referenced herein. If you do not agree to the Agreement, you may not use AAP(I BELONG)'s services or submit the Stories as defined below.
License Grant
By submitting information, content, images, and materials (the "Stories") to AAP(I BELONG), you grant AAP(I BELONG) a perpetual, royalty-free, worldwide, irrevocable, assignable, sublicensable, and transferable license in all rights, including all intellectual property rights, in and to the Stories to use, reproduce, transmit, print, publish, publicly display, exhibit, distribute, redistribute, copy, index, comment on, modify, transform, adapt, translate, create derivative works based upon, publicly perform, publicly communicate, make available, and otherwise use such Stories, in whole or in part, in all media formats and channels now known or hereafter devised (including in connection with the AAP(I BELONG) website and on third-party websites, services, applications, and/or platforms), in any number of copies and without limit as to time, manner and frequency of use, without further notice to you, without attribution, without additional consideration, and without the requirement of permission from or payment to you or any other person or entity, in AAP(I BELONG)'s sole discretion. For the sake of clarity, AAP(I BELONG) may use the Stories without additional consideration, including without limitation, storing the Stories on AAP(I BELONG) servers, websites, social media pages, print materials, advertising and marketing materials, and incorporating the Stories in other works including books and print materials to be shown in public spaces. AAP(I BELONG) is under no obligation to use your Story in any way.
No Confidential Information
You agree that submission of the Stories are not being made in confidence or trust and that no confidential or fiduciary relationship is intended or created between you and AAP(I BELONG), and that you have no expectation of review, compensation or consideration of any kind.
You agree that the Stories do not include any personally identifiable or confidential information or have names changed.
If you do not wish to grant AAP(I BELONG) these rights, do not submit your information or materials to this website. AAP(I BELONG) reserves the right to use, select, edit and arrange submissions, and to remove information from the AAP(I BELONG) website, materials, platforms or any other medium at any time in its sole discretion. No information, photos, or other materials from this website or other AAP(I BELONG) materials may be used for any purpose without expressed written authorization.
Release of Liability
To the fullest extent permitted by applicable law, you hereby irrevocably waive all legal and equitable rights relating to all liabilities, claims, demands, actions, suits, damages, and expenses, including but not limited to claims for copyright or trademark infringement, infringement of moral rights, libel, defamation, invasion of any rights of privacy (including intrusion, false light, public disclosure of private facts, and misappropriation of name or likeness), violation of rights of publicity, physical or emotional injury or distress, or any similar claim or cause of action in tort, contract, or any other legal theory, now known or hereafter known in any jurisdiction throughout the world (collectively, "Claims") arising directly or indirectly from AAPI(I BELONG)'s exercise of their rights to use the Stories or the production, exhibition, advertising, promotion, exploitation, or other use of the Stories, and whether resulting in whole or in part by the negligence of AAPI(I BELONG) or any other person, covenant not to make or bring any such Claims against AAPI(I BELONG) and its agents, employees, and representatives, and forever release and discharge AAPI(I BELONG) from liability under such Claims.
If You Need Immediate Assistance, Please Contact 911
AAP(I BELONG) is not responsible or liable for reporting or handling any Stories that contain unlawful acts, crimes, harm, or similar circumstances. If you are in need of immediate assistance, please contact 911.
You acknowledge that you have also read and accept the Terms of Service and Privacy Policy.
Photograph by Jason Leung©2021 AAP(I BELONG) | Terms and Conditions | Privacy Policy
KEEP UPDATED
Follow this journey with us
Add your email to be alerted of website updates or future AAP(I Belong) initiatives.
---
Terms of Service
Last updated: Apr 27, 2021 11:14 PMPlease read this Terms of Service ("Terms," "Terms of Service") carefully before using the www.aapibelong.com Website (the "Website") operated by Elizabeth Kari DBA AAP(I BELONG) and/or its affiliates and subsidiaries ("us," "we," "our") as this Terms of Service contains important information regarding limitations of our liability. Your access to and use of this Website is conditional upon your acceptance of and compliance with these Terms. These Terms apply to everyone, including but not limited to visitors, users and others, who wish to access and use the Website.By accessing or using the Website, you agree to be bound by these Terms. If you disagree with any part of the Terms, then you do not have our permission to access or use the Website.Comments and uploading content
By submitting a comment or uploading any content, including Stories ("Content") onto this Website, you grant AAP(I BELONG) a perpetual, royalty-free, worldwide, irrevocable, assignable, sublicensable, and transferable license in all rights, including all intellectual property rights, in and to the Content to use, reproduce, transmit, print, publish, publicly display, exhibit, distribute, redistribute, copy, index, comment on, modify, transform, adapt, translate, create derivative works based upon, publicly perform, publicly communicate, make available, and otherwise use such Content, in whole or in part, for any purpose whatsoever, in all media formats and channels now known or hereafter devised (including in connection with the AAP(I BELONG) website and on third-party websites, services, applications, and/or platforms), in any number of copies and without limit as to time, manner and frequency of use, without further notice to you, without attribution, without additional consideration, and without the requirement of permission from or payment to you or any other person or entity, in AAP(I BELONG)'s sole discretion. For the sake of clarity, AAP(I BELONG) may use the Content without additional consideration, including without limitation, storing the Content on AAP(I BELONG) servers, websites, social media pages, print materials, advertising and marketing materials, and incorporating the Content in other works including books and print materials to be shown in public spaces. AAP(I BELONG) is under no obligation to use your Content in any way. When you make a comment or upload any Content onto this Website, you agree that such Content may be viewed by other parties and it is your responsibility to ensure that the Content does not contain any confidential or proprietary information. You are also responsible for ensuring that your Content does not violate any laws, rules or regulations. We reserve the right to remove any Content at any time in our sole discretion.The following is a non-exhaustive list of types of Content that you are prohibited from posting on our Website:Content that harrasses others;
Content that is discriminatory or offensive;
Swearing, name calling and otherwise abusive content;
Content displaying, depicting or suggesting violence;
Content encouraging or committing illegal acts;
Content sharing personal information without consent;
Content infringing on someone's rights, including intellectual property rights.
Prohibited uses
You agree that you will use this Website in accordance with all applicable laws, rules, regulations and these Terms at all times. The following is a non-exhaustive list of prohibited uses of this Website. You agree that you will not perform any of the following prohibited uses:Impersonating or attempting to impersonate AAP(I BELONG) or its employees, representatives, subsidiaries or divisions;
Misrepresenting your identity or affiliation with any person or entity;
Sending or attempting to send any advertising or promotional material, including but not limited to spam, junk mail, chain mail or any similar material;
Engaging in any conduct that restricts or inhibits any person's use or enjoyment of the Website, or which, as determined in our sole discretion, may harm us or the users of this Website or expose us or other users to liability;
Using the Website in any manner to cause harm or convey harmful, disparaging, illegal, false, discriminatory, vulgar, or obscene messaging.
Using the Website in any manner that could disable, overburden, damage or impair the Website or interfere with another party's use of the Website;
Using any robot, spider or other similar automatic technology, process or means to access or use the Website for any purpose, including monitoring or copying any of the material on this Website;
Using any manual process or means to monitor or copy any of the material on this Website or for any other unauthorized purpose;
Using any device, software, means or routine that interferes with the proper working of the Website, including but not limited to viruses, trojan horses, worms, logic bombs or other such materials;
Attempting to gain unauthorized access to, interfering with, damaging or disrupting any parts of the Website, the server(s) on which the Website is stored, or any server, computer or database connected to the Website;
Attempting to attack or attacking the Website via a denial-of-service attack or a distributed denial-of-service attack;
Otherwise attempting to interfere with the proper working of the Website;
Using the Website in any way that violates any applicable federal, state or local laws, rules or regulations.
NO WARRANTY ON WEBSITE
THIS WEBSITE IS PROVIDED "AS IS," NO WARRANTY, EXPRESS OR IMPLIED (INCLUDING ANY IMPLIED WARRANTY OF MERCHANTABILITY, OF SATISFACTORY QUALITY OR FITNESS FOR A PARTICULAR PURPOSE OR USE) SHALL APPLY TO THIS WEBSITE, WHETHER ARISING BY LAW, COURSE OF DEALING, COURSE OF PERFORMANCE, USAGE OF TRADE OR OTHERWISE.Availability, errors and inaccuracies
We assume no liability for the availability, errors or inaccuracies of the information, products or services provided on this Website. We may experience delays in updating information on this Website and in our advertising on other websites. The information, products and services found on the Website may contain errors or inaccuracies or may not be complete or current. Products or services may be incorrectly priced or unavailable. We expressly reserve the right to correct any pricing errors on our Website. The inclusion or offering of any product or service on this Website does not constitute an endorsement or recommendation of such product or service by us.DAMAGES AND LIMITATION OF LIABILITY
IN NO EVENT SHALL AAP(I BELONG) BE LIABLE FOR ANY DIRECT, INDIRECT, PUNITIVE, INCIDENTAL, SPECIAL OR CONSEQUENTIAL DAMAGES ARISING OUT OF, RELATING TO OR IN ANY WAY CONNECTED WITH YOUR ACCESS TO, DISPLAY OF OR USE OF THIS WEBSITE OR WITH THE DELAY OR INABILITY TO ACCESS, DISPLAY OR USE THIS WEBSITE, INCLUDING BUT NOT LIMITED TO YOUR RELIANCE UPON OPINIONS OR INFORMATION APPEARING ON THIS WEBSITE; ANY COMPUTER VIRUSES, INFORMATION, SOFTWARE, LINKED WEBSITES OPERATED BY THIRD PARTIES, PRODUCTS OR SERVICES OBTAINED THROUGH THIS WEBSITE, WHETHER BASED ON A THEORY OF NEGLIGENCE, CONTRACT, TORT, STRICT LIABILITY, CONSUMER PROTECTION STATUTES OR OTHERWISE, EVEN IF ELIZABETH KARI HAS BEEN ADVISED OF THE POSSIBILITY OF SUCH DAMAGES.THIS LIMITATION OF LIABILITY REFLECTS THE ALLOCATION OF RISK BETWEEN YOU AND US. THE LIMITATIONS SPECIFIED IN THIS SECTION WILL SURVIVE AND APPLY EVEN IF ANY LIMITED REMEDY SPECIFIED IN THESE TERMS OF USE IS FOUND TO HAVE FAILED OF ITS ESSENTIAL PURPOSE. THE LIMITATIONS OF LIABILITY PROVIDED IN THESE TERMS OF USE INURE TO THE BENEFIT OF ELIZABETH KARI.Links to third party websites
This Website may contain hyperlinks to websites operated by third parties and not by us. We provide such hyperlinks for your reference only. We do not control such websites and are not responsible for their contents or the privacy or other practices of such websites. Further, it is your responsibility to take precautions to ensure that whatever links you click on or software that you download, whether from this Website or other websites or applications, is free of such items as viruses, worms, trojan horses, defects and other items of a destructive nature. Our inclusion of hyperlinks to such websites does not imply any endorsement of the material on such websites or any association with their operators.Intellectual property and DMCA notice and procedure for intellectual property infringement claims
All contents of this Website are ©2021 Elizabeth Kari or third parties. All rights reserved. Unless specified otherwise, this Website and all content and other materials on this Website including but not limited to all logos, designs, text, graphics, pictures, information, data, software, sound files and arrangement thereof are the proprietary property of Elizabeth Kari and are either registered trademarks, trademarks or otherwise protected intellectual property of Elizabeth Kari or third parties in the United States and/or other countries.If you are aware of a potential infringement of our intellectual property, please contact Francesca Witzburg at francesca.witzburg@lozaip.com.We respect the intellectual property rights of others. It is our policy to respond to any claim that Content or other materials posted on the Website infringes on the copyright, trademark or other intellectual property rights of any person or entity.If you believe in good faith that the Content or any materials on our Website infringes on your intellectual property rights, you or your agent may send us a written notice of such infringement titled "Infringement of Intellectual Property Rights - DMCA." Your notice to us must include the following information:An electronic or physical signature of the person authorized to act on behalf of the owner of the intellectual property right's interest;
A description of the work that you claim has been infringed, including the URL (i.e., web page address) of the location where the work exists or a copy of the work;
Your name, email, address and telephone number; and
A statement by you that you have a good faith belief that the disputed use is not authorized by the owner of the work, its agent or the law.
Please note that we will not process your complaint if it is not properly filled out or is incomplete. You may be held accountable for damages, including but not limited to costs and attorneys' fees for any misrepresentation or bad faith claims regarding the infringement of your intellectual property rights by the Content or materials on this Website.You may submit your claim to us by contacting us at:Loza and Loza LLP(877) 406-5164
305 N. Second Avenue, #127
Upland, CA 91786, U.S.A.
UNITED STATESfrancesca.witzburg@lozaip.comGoverning law, severability, dispute resolution and venue
These Terms shall be governed and construed in accordance with the laws of the state of New York, United States, without regard to its conflict of laws provisions. THESE TERMS SHALL NOT BE GOVERNED BY THE UNITED NATIONS CONVENTION ON CONTRACTS FOR THE SALE OF INTERNATIONAL GOODS, THE UNIFORM COMMERCIAL CODE, NOR INCOTERMS.Our failure to enforce any right or provision of these Terms will not be considered a waiver of that right or provision. If any provision of these Terms is held to be invalid or unenforceable by a court, the remaining provisions of these Terms will remain in effect. These Terms constitute the entire agreement between you and us regarding our Website, and supersede and replace any prior agreements we might have had with you regarding the Website.Any controversy or claim arising out of or relating to these Terms including but not limited to the interpretation or breach thereof shall be resolved in a court of competent jurisdiction in New York City County, New York.YOU AND AAP(I BELONG) AGREE THAT EACH MAY BRING CLAIMS AGAINST THE OTHER ONLY IN YOUR OR ITS INDIVIDUAL CAPACITY AND NOT AS A PLAINTIFF OR CLASS MEMBER IN ANY CLASS OR REPRESENTATIVE ACTION.We reserve the right to make changes to these Terms of Service at any time. We will not provide you with any notice when we make changes to this Terms of Service.Questions
If you have any questions about our Terms of Service, please contact us at aapibelong@gmail.com.Terms of Submissions
Do not include any confidential or personably identifiable information. All submissions will be reviewed. Posting of submissions are subject to AAP(I Belong) discretion.These Terms Are a Contract Between You and UsThe following terms ("Agreement") are a contract between you and Elizabeth Kari DBA AAP(I BELONG) and/or its affiliates and subsidiaries (collectively, "AAP(I BELONG)," "we" or "us").You represent to AAP(I BELONG) that you have read, understood, and expressly agree to be bound by this Agreement, and the terms, conditions, and notices contained or referenced herein. If you do not agree to the Agreement, you may not use AAP(I BELONG)'s services or submit the Stories as defined below.License Grant
By submitting information, content, images, and materials (the "Stories") to AAP(I BELONG), you grant AAP(I BELONG) a perpetual, royalty-free, worldwide, irrevocable, assignable, sublicensable, and transferable license in all rights, including all intellectual property rights, in and to the Stories to use, reproduce, transmit, print, publish, publicly display, exhibit, distribute, redistribute, copy, index, comment on, modify, transform, adapt, translate, create derivative works based upon, publicly perform, publicly communicate, make available, and otherwise use such Stories, in whole or in part, in all media formats and channels now known or hereafter devised (including in connection with the AAP(I BELONG) website and on third-party websites, services, applications, and/or platforms), in any number of copies and without limit as to time, manner and frequency of use, without further notice to you, without attribution, without additional consideration, and without the requirement of permission from or payment to you or any other person or entity, in AAP(I BELONG)'s sole discretion. For the sake of clarity, AAP(I BELONG) may use the Stories without additional consideration, including without limitation, storing the Stories on AAP(I BELONG) servers, websites, social media pages, print materials, advertising and marketing materials, and incorporating the Stories in other works including books and print materials to be shown in public spaces. AAP(I BELONG) is under no obligation to use your Story in any way.No Confidential Information
You agree that submission of the Stories are not being made in confidence or trust and that no confidential or fiduciary relationship is intended or created between you and AAP(I BELONG), and that you have no expectation of review, compensation or consideration of any kind.You agree that the Stories do not include any personally identifiable or confidential information or have names changed.If you do not wish to grant AAP(I BELONG) these rights, do not submit your information or materials to this website. AAP(I BELONG) reserves the right to use, select, edit and arrange submissions, and to remove information from the AAP(I BELONG) website, materials, platforms or any other medium at any time in its sole discretion. No information, photos, or other materials from this website or other AAP(I BELONG) materials may be used for any purpose without expressed written authorization.
Photograph by Jason Leung©2021 AAP(I BELONG) | Terms and Conditions | Privacy Policy
---
Privacy Policy
Last updated: Apr 27, 2021 10:55 PMWe value your privacy very highly. Please read this Privacy Policy carefully before using the www.aapibelong.com Website (the "Website") operated by Elizabeth Kari DBA AAP(I BELONG) and/or its affiliates and subsidiaries ("us," "we," "our") as this Privacy Policy contains important information regarding your privacy and how we may use the information we collect about you.Your access to and use of the Website is conditional upon your acceptance of and compliance with this Privacy Policy. This Privacy Policy applies to everyone, including, but not limited to: visitors, users, and others, who wish to access or use the Website.By accessing or using the Website, you agree to be bound by this Privacy Policy. If you disagree with any part of the Privacy Policy, then you do not have our permission to access or use the Website.What information we collect
We collect any and all information that you enter on this Website. We collect the following information about you:Category of information
Information that you provide by filling in forms and uploading content to the Website.Identifying information
Email address
Stories submissions if applicable
NamesHow we may use your information
We may use the information that you provide us for the following:
Analytics;
Enforcing our Terms of Service;
Marketing and advertising;
Participation in surveys and contests;
Performing services;
Providing customer service;
Short-term transient use;
To share the Stories if submitted properly in the manner set out in the agreement terms relating to the Stories
Cookies
A cookie is a small piece of data sent from a website and stored on your computer by your web browser. The file is added once you agree to store cookies on your computer or device, and the cookie helps analyze web traffic or lets you know when you visit a particular site. Cookies allow sites to respond to you as an individual. The Website can also tailor its operations to your needs, likes, and dislikes by gathering and remembering information about your preferences.Children's privacy
This Website is intended for use by a general audience and does not offer services to children. Should a child whom we know to be under 18 send personal information to us, we will use that information only to respond to that child to inform him or her that they cannot use this Website.Analytics programs
This Website uses Google Analytics to collect information about you and your behaviors. If you would like to opt out of Google Analytics, please visit https://tools.google.com/dlpage/gaoptout/.Third-party websites
This Website may contain hyperlinks to websites operated by parties other than us. We provide such hyperlinks for your reference only. We do not control such websites and are not responsible for their contents or the privacy or other practices of such websites. It is up to you to read and fully understand their Privacy Policies. Our inclusion of hyperlinks to such websites does not imply any endorsement of the material on such websites or any association with their operators.Questions
If you have any questions about this Privacy Policy, please contact us at aapibelong@gmail.com.
Photograph by Jason Leung©2021 AAP(I BELONG) | Terms and Conditions | Privacy Policy
< RETURN TO HOME
> READ MORE SUBMISSIONS
When I was in grade school, my mother would pack me kimchi. Classmates made so much fun of me, and I was ashamed. I was angry with my mom. I never wanted to bring Korean food to school again. I was embarrassed of my own heritage. In 4th grade, my teacher openly mocked my name and had the entire class collectively laugh at me. Again, I was ashamed of my identity. Only as an adult did I feel the pain that my mother must have felt, to have her son reject the culture from which she came from. I apologized to her, deeply embarrassed of how that must have made her feel. She broke down, caught off guard, and partially unaware that she had buried her own feelings deep down for so long. But in that moment, we both understood the sacrifices she made for me. I was able to love her more fully for all of those sacrifices. And she, in turn, was able to see a son whom she raised, who understood why she sacrificed so much. Bias and hate is real and constant. But we cannot overcome it without honest dialogue.------------------------------------------------When I was in preschool, I was the only Asian person in my class. When we were playing house, a white girl made me the maid and she the housewife, another was her husband etc. A couple of years later, another white girl told me that her uncle is a cop and that he would put me in prison. When I was 18 standing outside in CT, a car drove by and a white person rolled down the window and yelled "Chink!" at me.Even among Asians, I was described as not "golden yellow" because I am not Asian enough by their standards. They have also spoken about me in front of me in Chinese, knowing I do not understand. And when I asked if they were talking about me, the reply was yes. Also, I have been called jook-sing.The Asian hate is very complicated.I don't know any stories of encouragement-- that's hiding all the shame and pain Asian Americans feel over the years to not discuss it.------------------------------------------------In 2012, I turned 18. I was excited to finally register to vote and participate in our democracy. I wanted to help support Obama in his presidential run in representing the interests of POC. Both of my parents are immigrants and had to go through the long process to obtain citizenship before they were able to vote. Being born in America, I should have no conflict, right? They had a booth in my college to help students register, so I went there. The elderly white lady operating the booth looked at me and said, "You know only citizens can vote, right?" At that moment I felt hurt. I was born and raised in this country, but she saw me as a foreigner. When I told her I was born here, she didn't apologize, but allowed me to fill out the voter registration form. We belong here too. Our skin color and ancestral history doesn't make us any less American. Yet I'm never treated as one. People speak English slowly to me or compliment my good English skills. People ask where I am really from. It's frustrating. It's to the point where I just refer to myself as Asian.------------------------------------------------I'm Chinese American and I'm a registered nurse. When Covid hit NYC, and our hospitals were overwhelmed, I worked on a Covid ICU taking care of the sickest of the sick. I got the daily applauses at 7pm and lots of donated meals to fill my stomach during these grueling shifts.Yes, the work was very overwhelming, but honestly, my non-Asian colleagues were excited for all the positive attention they were getting because of their work — appearances on TV to be honored as a healthcare worker, free swag and discounts from top brands for being an essential healthcare worker, some even received bonuses and higher pay rates for traveling from other states to help out NY. Media portrayed them as heroes, but I'd argue many came here for some extra cash.Although I also benefited from this attention, I've heard countless stories of Asian American colleagues and friends feeling unsafe traveling to work. Some were spat on. Some were dragged off subway trains, with no bystanders standing up for them. Some were belittled verbally for being Asian and blamed for bringing the virus here. I personally was called a "dirty chink" while wearing my clean scrubs on my way to work. I felt that keeping my scrubs on either scared people from wanting to approach me, or that the image of a hero would offset the negative view of being Asian.
I understood their frustration — this virus flipped our country and our city upside down. People couldn't express their anger towards the government's poor response to handling the pandemic, so they take it out on Asians — a "vulnerable" group of people who historically keep their heads down and don't stir up any trouble. If they know we won't fight back or stand up for ourselves, they'd risk it and try to get that temporary satisfaction of expressing their anger by attacking us physically and/or verbally. This was March 2020. The media was too focused on lockdowns and defining social distancing to be talking about anti-Asian hate crimes. But they certainly existed. It's May 2021 now. What has changed? Not much apparently... I'm still a registered nurse taking care of Covid patients. I still take a 30-minute subway ride with my hand in my pocket holding a bottle of pepper spray. I still have medical shears in my other pocket prepared to defend myself if needed. I no longer can enjoy listening to music or checking social media on the subway because I have to always be on guard. I work the night shift and I would have to leave for work earlier before the streets get dark.When can I walk down the streets without constantly being in a state of panic?------------------------------------------------En route to one of my best friend's intimate birthday celebration, I take an Uber (as I've not taken public transportation since the pandemic and rise in Asian-hate related crimes). Noticeably, my Uber driver is like me - part of the AAPI community. Nearing my drop off location, he overhears my boyfriend as I am FaceTiming with him - and he hears him caution to me "to be careful and not be a victim," directly implying the recent news. As the street was a bit closed due to construction, he said he'll be dropping me off two blocks away. I agree, however, as he looks up and realizes that I am AAPI like him - he says to wait and wants to ensure to drop me off directly in front of my destination. Thankful and appreciative, I acknowledge the extra caution and steps he took. He said to "Of course. We all have to look out for another. Take care, now."------------------------------------------------I am Filipina and my husband is a white man. Despite not being very far in age, he does look older than I do. He was once hospitalized, and at his doctor's appointment the doctor asked me, "who takes care of him during the morning?" I said, "me." He asked, "and in the afternoon into the evening?" I said, "me" again. Finally, he said, "who is watching him overnight?" And once again, I said, "me." The response was, "but who relieves you from your shift?!" I finally told him that I was his wife... While I think it was an honest ignorant mistake, I could see the stereotype in his eyes.------------------------------------------------
< RETURN TO HOME
> READ MORE SUBMISSIONS
Follow this journey with us
< PREVIOUS SUBMISSIONS
> READ MORE SUBMISSIONS
I vividly remember each time from elementary school to the present day when I've been told "go back to where you came from" or been bombarded with the stereotypical, racist "Asian" accent people love to do. Even as a kid, I wondered how these other kids learned this way of thinking. I also thought, "hold on, I'm taking Honors English. I speak and write better English than you."But damn, it hurts every time and makes me feel like crap. I never know what to do about it. Sometimes it's easier to just let it go but I won't put it up with it anymore.------------------------------------------------Years ago, my grandfather was attacked while walking to work one morning. He never reported it out of fear of someone finding out he was illegal; and as a result, possibly facing deportation. He never wanted to seek justice, but I can see the pain he carries all these years.------------------------------------------------I am a Pacific Islander and married an Irish guy.
We had a daughter whose skin color is like her father, white. When she was little, I used to take her to playgrounds. One time, there were other children playing with their moms who were mostly white. One of the moms said, "She's a beautiful child (referring to my daughter). Are you the nanny?"
I felt so disgusted, but said in a very convincing voice, "No, I am her mother."------------------------------------------------Every time I get on the subway, I sit near someone that looks trustworthy, hoping that they will stand up for me should someone think it is ok to hurt me. I'm a small Asian woman and this thought crosses my mind more than I'd like to admit------------------------------------------------When I was in middle school, I would see people make fun of Asian students. I knew it was wrong and said nothing to stop them. Many years later, I feel guilty for this still. I just want to say I'm sorry.------------------------------------------------You drink coffee, I drink tea
Your eyes are round, you tell me I can't see
You want more, I just want to be me
You never worry, I just want to be free
You yell at your parents, I must listen to mine
In the end you may mess up, but I will be fine------------------------------------------------I'm an Asian American who was born and raised in a predominantly white suburban neighborhood of sunny Southern California. My story is probably similar to others - "Go back to China", "chink","hiyah" (or similar sound effects for karate). All words or phrases I heard growing up, even from neighbors living on the same street as me. Actually, it wasn't just even me either, one particular neighbor would consistently harass my mom each time we drove or walked by. I was always nervous with pent-up tension each time we passed by, feeling uneasy to hear threats like "you better watch it" or "I'm going to get you next time." It occurred quite often since their home was only 4 houses away from ours.The encouragement I have to share though is to not let one bad apple chain you down in life. Later in life, the neighbor's children, who were a bit younger than me, seemed to grow up to be more thoughtful and open-minded than their father. No parent or person is perfect, but we can always learn and improve. I have moved on from my negative childhood experiences, but I still carry the memories. Happy to share and serve as evidence of the "American dream" which was setup from the blood, sweat, and tears from immigrant parents.------------------------------------------------"Just leave me alone, will ya?"
"What's wrong?"
"I just want to be alone to think."
"Aww, you're 10. You're too young to think."
"Well, you're 9, and you should start." (Pause) "Do you think I'm American?"
"Yes. Because you were born in America."
"What's this about?"
"Some kids called me a Flip, today."
"Flip? What's that mean?"
"I don't know. I don't even know how to tumble. Whatever it is, I don't think they think that I'm American."
"What difference does it make? You speak American, so if everyone was blind then you'd be like, the perfect G.I. Joe. And you can't get any more American than G.I. Joe."
"Captain America is more American than G.I. Joe."
"I don't get it. I like apple pie." (Pause) "Baseball is boring, but I like basketball and football. That's pretty American, right?"
"McDonald's is American… (thinks) and since all I eat are Happy Meals, that makes me a Happy American."
"Yeah. And you love watching Family Guy."
"And the Simpsons, Malcolm in the Middle, and Reba."
"Don't forget Will & Grace…"
"Friends"
"Seinfeld"
"Drake and Josh"
"iCarly"
"Great TV shows."
"Great AMERICAN TV shows."
"Yeah… But that's what I mean; if they're American TV shows, then how come there's no one on those shows that looks like me?"
"Sometimes, I wonder… It just makes me wonder if I'm really here, you know? Makes me wonder, if anyone even notices that I'm here."
"Those are TV shows. They're not real."
"But to everyone else? I'm just worried that if people watch these TV
shows, which are supposed to take place in America…If people don't see people like me on TV, then do I exist to them?"------------------------------------------------I moved to New York City from Hong Kong permanently, as I married to my wife who had grown up there. As every AAPI, I encountered numerous bullies because of my heritage. However, I am more determined to change some Americans who are lacking understanding or courage to love and respect others.I volunteered for more than fifteen years in local community baseball and soccer leagues. Volunteering in the ever-growing neighborhood youth sports leagues requires tireless efforts, determination and a lot of creativity. We coach kids, arrange parent assistance, fight for field spaces, and resolve conflicts on and off the fields. It is exhausting but satisfying. The leagues grew from 600 kids to 1600 kids within 10 years.During that 10 years in the leagues, I was doubted and verbally abused because I am the only AAPI Director on the Board. I contributed quite a bit, and I started getting more compliments than doubts year by year. For my AAPI brothers and sisters, we have to contribute, perform, and voice out for what is good and right.I learned from an old American: "In America, nowadays, the one who makes the loudest noise may not get the most; but the one who speak up definitively will get more." Both silence and violence are not the answer!I believe AAPI is the model minority. We are also the colorblind in this country. We believe in respect and love. We are quiet, but should not be silent. We have to let this country know who we are. We love to contribute, and we do not need the praise. We work hard for our living, and we deserve respect. We care about our country, and we contribute. We deserve the same respect as any American.Get involved. Get engaged. Get what we protected. Get the voice out!------------------------------------------------Definition of Model Minority: (noun) A stereotypical view of an ethnic, racial, or religious minority group that is assumed to have achieved a high level of educational, economical, and professional success.The model minority myth does three things: first, obscures anti-Asian American racism; second, renders Asian Americans invisible to broader society; and third, implies that Asian Americans don't need anti-racist programs.------------------------------------------------
< PREVIOUS SUBMISSIONS
> READ MORE SUBMISSIONS
Follow this journey with us
< PREVIOUS SUBMISSIONS
> READ MORE SUBMISSIONS
I started working in SoHo (NYC) area in early February and with recent Asian-Hate crimes being reported and in the media - I was a bit apprehensive of the commute. With the pandemic, like other industries and professions - there has been a hybrid of work from home and going to the office a few days. With everything happening, I've taken precaution to have (1) pepper spray (2) carrying large scissors in my tote (3) making sure to be in camera angles in the subways (4) when entering a train car - not going in unless there is someone from my AAPI community as a witness (5) texting family/friends when I leave home and immediately texting when I've arrived and vise versa when leaving. I can only imagine the caution and fear and others have gone through. Prior to the pandemic, I've never had to do these steps before as I've lived in the city for over a decade. I'm unsure if I'll ever feel the same way as I did before, but will remain vigilant in my safety as well as others within my community onwards.------------------------------------------------I'm half Asian, and I don't look it. As much as I try to identify with this side of me, those in the community do not easily welcome me. I feel like I need to prove or bring up in conversation that my mom is Asian. Once I say it, their attitude becomes lighter and friendlier. Wish I could just be accepted...------------------------------------------------I'm an Asian/Caucasian gay man. I grew up in a small Midwestern town in the 1980's. In school, I was invisible. Looking back, that was most likely a blessing. It was the adults in town that would say horrible things to me. It usually happened when I was alone. The issue was that I was Asian. As I grew up, I developed social anxiety. I have no friends from my childhood. I had spent time in NY, where one of my parents lived, so I moved there after high school. To my surprise, on occasion, I encountered the same hate here in NY. I did meet someone at work that I was friendly with, but I have no friends from college. The Idea of talking to someone was paralyzing. The only time I felt ok leaving the house was to go to school or work. I would spend days hyping myself up just to go out. Sometimes I did, but often I just couldn't. The fear of what people thought of me was hard to overcome. All I could think about was that I didn't belong and no one wanted me around. My life changed in my mid-late 20's when I met my best friend and her AMAZING family. They accepted me with NO judgement and it was life changing. As adults, my sister and I now talk about what we each went through in that Midwestern town. As kids, we never knew what the other was going through. I still get those feelings of not belonging now and again, but being older and wiser, I can brush them aside. We all just want to belong, and know that we are loved for who we are. That small Midwestern town has changed for the better, and I enjoy going back to visit family that still live there.------------------------------------------------Why do we have to use the term Asian-American? Why can't I just be American? I've only ever called myself American. Only the media calls me Asian-American. We can never be accepted if we're labeled differently.------------------------------------------------I work in the fashion industry. While in Milan during January 2020 on a Sunday - after presentations and shows, I decided to go visit the Duomo. My friend - a German Straight Male decides to join me as he's not toured and hasn't had the experience. He asks me why, and I explain to him that I didn't take the opportunity to visit Notre Dame before the fire and felt that I wouldn't be coming back to Milan anytime soon.During this time, the night before - there had been more updates on the rise of the COVID-19 spreading within the city. We purchase a ticket and proceed to go to the entrance. There are two military guards stationed within the entrance. My friend's ticket gets scanned by a digital reader. It's my turn and instead of my ticket scanned - he puts the red scanner on my forehead. I ask why - and he said "You know, checking your temperature. It's a joke."At this moment, I pause. I realize, I was just profiled. I recall saying the below - "First and foremost, I am an American Citizenship with Filipino heritage. Two, what you just did is wrong! That's racial profiling! No country or race wants to be associated with what's happening right now. Additionally, you both are men of discipline and order working in one of the most holiest places in Europe. I would expect a different decorum instead of what I've just experienced. Had I been an editor or influencer who was documenting the experience upon entry - you'd be plastered all over social media and would possibly not have a job tomorrow. The joke is in poor judgement and taste. I would like to think that Italy was more open-minded in their thinking."He profusely apologizes and agrees with what I said. He takes us in and shows my friend and I around quickly before sincerely saying sorry again to join his colleague at his post. My friend was in awe in my spiel and gave me a pat on the back while agreeing with me on speaking my mind presently.------------------------------------------------Through so much tragedy, violence, and hate, one thing that has kept me going is the resilience, strength, and love of our Asian American community. This time has served as a powerful reminder of all that we're able to give each other and the rest of the world. We will get through this as we have other painful periods in our American history and come out of this stronger than ever.------------------------------------------------
< PREVIOUS SUBMISSIONS
> READ MORE SUBMISSIONS
Follow this journey with us
< PREVIOUS SUBMISSIONS
< RETURN TO HOME
Growing up in predominantly white suburbs, I remember being one of the only Filipino kids. No one knew what I was. I saw how my parents acted differently in public. They were reserved and polite, trying to sound educated and be accepted in society. I became afraid to be me at school. I was afraid to stray from what I saw my parents portray in public. I was afraid if I spoke too much, people would think I was weird/different. I hid myself. I look back on those years and regret it.------------------------------------------------"How is school? You learn good English, boy?"
I would recite to him the latest rhyme I learned.
"When you learn good, you teach me too. So Papa can use it at work."
He worked in a factory, nights. Low pay, bad work, you know.
"Tell me that rhyme again."
"Papa, my classmate wanted to know if I am an Indian."
"You are Filipino. Tell them."
"I told them that. They don't know what that is."
"Tell them you come from a warrior tribe."
"They laughed at me. They said I smelled like fish."
(after a hurting silence) "You take a bath." (Laughs)
How do you make him understand that it was a racist remark? I was five years old then. I felt so small. I took the damn bath.------------------------------------------------My father came over in the '50s. He worked very hard but was always fearful to speak too much. Afraid that if he became too successful, others would want to take away his accomplishments. He lived a humble life, but now I think it might have also been out of fear.------------------------------------------------During these times especially, I've thought about the many times I'd get sexually assaulted as a young Asian girl taking the subway by adult men. As an adult, I can recognize how one's identity and perceptions of those identity play into these attacks - e.g., being young or old, female, small physically, etc. And as Asians, all the stereotypes that people believe about us - e.g., weak, quiet, submissive, etc. and the model minority stereotypes that keep people from believing we face racism, discrimination, and need support. I feel heartbroken and angry for our community, but I also know our strength, our power, our love - and these things will carry us forward together.------------------------------------------------I was an Asian mom living in a mostly all-white community when my daughter was growing up.
I used to volunteer at her school. I remember sitting alone to watch her games. Groups of mom would sit together, laughing and talking with each other. I felt I was a stranger in my own neighborhood.------------------------------------------------All people that come to this country to make a good life, pay taxes and not break laws are entitled to be American! Asians work hard and add to the economy. They value education and respect. Why are people trying to take this away from them. How can you hate someone that minds their own business?------------------------------------------------Being born here, I thought it was my fault that I didn't feel like I fit in at my very "white" junior high. While I felt more at home with the couple of Asians in my school, I placed a higher value on friendships with white people because I thought it would show them that I was no different from them. It took 40 years to realize that I shouldn't have to feel that way, and I wish I had treasured my Asian community more.------------------------------------------------
< PREVIOUS SUBMISSIONS
< RETURN TO HOME
Follow this journey with us
---
Thank you to everyone that came out to support our NYC MyOwnStory: AAP(I belong) exhibition at the MOCA Museum
Photos by Richard Tam

March 29, 2021 started off like any other pandemic Monday. I was working from home, running reports and contemplating if it was too early to already pour a second cup of coffee. I had just finished a Zoom meeting when I saw that I missed a call from my mom. "Huh, she must be walking to the subway," I thought. I was about to call her back when my phone lit up with a text that read: "Call me. I was attacked." Our lives changed in a big way that day.The video of the attack became international news. Many were heartbroken to watch the doorman close the glass door while mom struggled to get up from the street.The road to healing was long. Many nights I lay awake making mental checklists for the next day. When sleep evaded me, I would open my GoFundMe inbox and read some of the messages. Messages of concern, love, prayers, encouragement, frustration and general anger about the incident—anger that someone could tell my mom that she did not belong here because she was Asian. I was moved that perfect strangers could feel so much empathy for my mother. The sensation was uplifting and gave me the strength to push through each day. I turned to this resource nightly as a "you can do it" inbox, and more heartfelt, "I've been in your/your mother's position and know what it feels like." Occasionally, I would be cooking dinner and hear my mother softly crying over her phone saying, "look, this is so nice," as she scrolled through the comments.These messages meant the world to me and have become some of my most prized possessions. I started to think, "if only I could replicate my inbox and share it with the world." This is how AAP(I belong)® was born – 3AM, tearstained face, dog watching in confusion.The next steps forward were a whirlwind, but with the help of a small community of dedicated, loving friends this dream has become a reality. Their passion for this project has pushed me forward when I hit moments of weakness and exhaustion. It reminded me of the importance of community and having each other's backs when we feel alone or defeated. If there can be only one take away from this project, let it be known that you are not alone.AAP(I belong) ® aims to shed greater awareness on Asian American Native Hawaiian and Pacific Islander (AANHPI) discrimination and cultural challenges through education by providing a safe platform for the community to share their anonymous stories of encounters with Anti-Asian hate. By showcasing the collected stories in exhibitions around the country, we hope to spark empathy, self-reflection, community conversation, and promote general AANHPI education to the publicThank you for taking a moment to live these stories. We encourage you to share your story and follow our journey on Instagram @aapibelong.
Thank you,
Elizabeth Kari
President, AAP(I belong) ®
501(c)(3) not-for-profit organization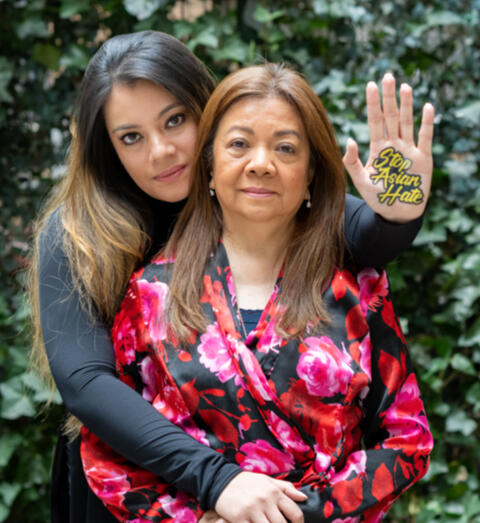 Photo by Martin Romero

---
Thank you to the New York Yankees for sharing their platform with us during Hope Week June 2021 and for encouraging the players, fans, and staff to read the anonymous stories of the community (check out the video below).
---
On September 15, 2022, the United States White House held the United We Stand Summit in an effort to counter the destructive effects of hate-fueled violence on our democracy and public safety, mobilize diverse sectors of society and communities across the country to these dangers, and put forward a shared, inclusive, bipartisan vision for a more united America.
Vilma Kari was welcomed as a panelist to share her experience as being a hate crime survivor.
---
We were so honored to be awardees of the 12th annual The Outstanding Filipinos in America (TOFA) awards on September 16, 2022 in NYC.
---
On January 19, 2023, AAP(I belong) rang the bell at Nasdaq's Opening Bell Ceremony in honor of Lunar New Year.
---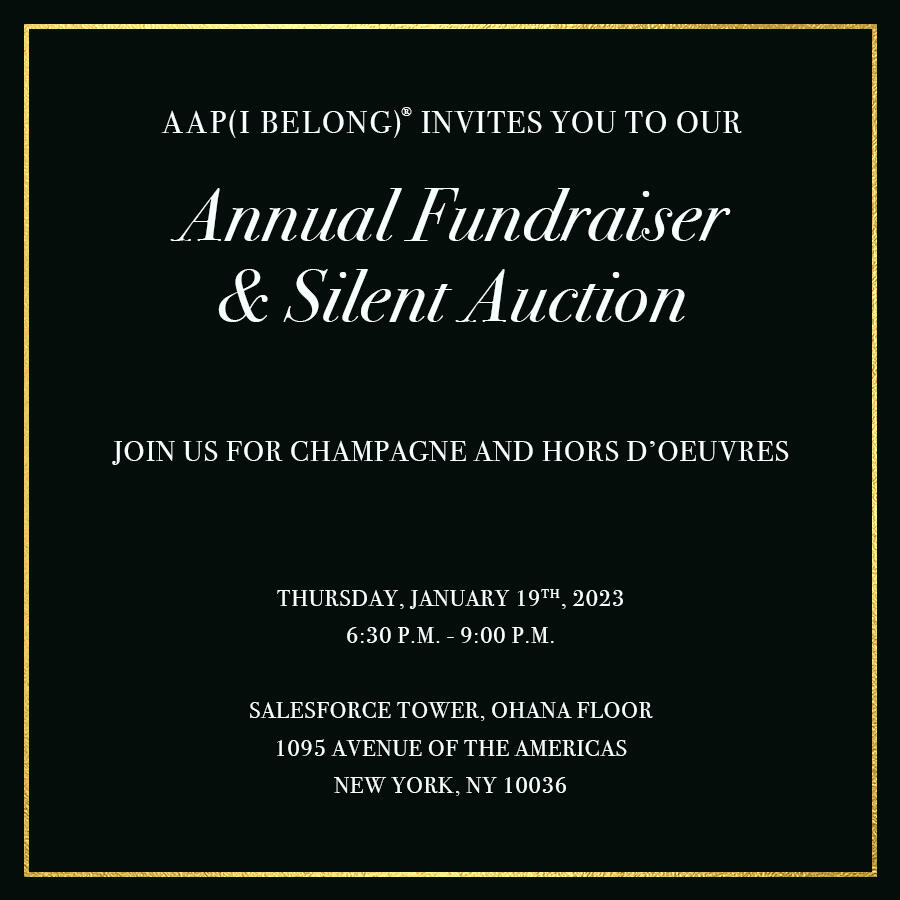 New York, January 8, 2023 – AAP(I belong)® welcomes Annual Fundraiser & Silent Auction, taking place in New York City on January 19, 2023, and featuring AAP(I belong)® exhibition of stories, stories shared live from the community, and a presentation from the founders -- Vilma Kari, Times Square Asian hate crime survivor, and her daughter, Elizabeth Kari.AAP(I belong)® is proud to host its Annual Fundraiser & Silent Auction for the first time. Upon entering the space, guests are welcomed by a spectacular view with lively music played by a Juilliard pianist. The event space will include an exhibition of AAP(I belong)® story submissions, digital and printed; and, a presentation which includes student story presentation, Elizabeth's (President) story recalling the lifechanging events that unfolded after her mothers anti-Asian attack leading to the creation of AAP(I belong)® and what it hopes to accomplish in the future, and a thank you address from Vilma Kari.
A Chandon* champagne bar entices guests to grab a glass and tour the grand table set with an assortment of Asian themed light bites. Two additional bars flank the event space, serving Nectar Hard Seltzer* and Sanzo* sparkling water.
To the far end of the room, guests will find silent auction tables showcasing a variety of fashion, wellness, and homegoods with the majority of auction items donated from local AAPI businesses. Auction brands include Prada, NY Yankees, Chloe, M.M. LaFleur, Lanshin, Dream Tea, Lanterne Lab, Fly by Jing, and many more.